On June 15th, 2019, the three-day 2019 China (Chengdu) International Modern Industrial Technology Expo came to a successful conclusion. Many enterprises competed on the same stage. Zhengxi is mainly engaged in communication, cooperation and development, and comprehensively displays various hydraulic equipment technologies. And products. The on-site booth products are dazzling, and the crowds who visit and exchange are endless and extremely hot.
The 2019 Chengdu Industrial Fair, Zhengxi Hydraulics was unveiled with high technology, high efficiency and high quality. The pavilion attracted a large number of visitors to the exhibition. Zhengxi hydraulic products were positioned in the middle and high-end products made in China, with a wide audience and products. Wide range of applications! Clear positioning, won the approval of a large number of intent customers
Zhengxi Hydraulics takes this opportunity as an opportunity to understand the industry's wind direction and demonstrate the strength of Zhengxi hydraulic power, and hopes to find a partner with the same goal. It is also hoped that exhibitors will understand the quality and sincerity of Zhengxi Hydraulics through on-site product inspection, business negotiation and exchange experience.
"Made in China - Zhengxi Hydraulic Intelligent Manufacturing Solution, Machine Vision Solution" has become a highlight of the show. The exhibition attracted many experts and customers who came to visit. They conducted detailed consultation on performance, application, cost performance and technical services.
Zhengxi Hydraulic's 10 years of independent research and development, production experience, coupled with the profound foundation of Sichuan Chemical Machinery Factory's decades of mechanical manufacturing, brewed a group of high-quality technical management team and a complete set of hydraulic equipment complete manufacturing process, to create for customers A stable, suitable and energy-saving quality product.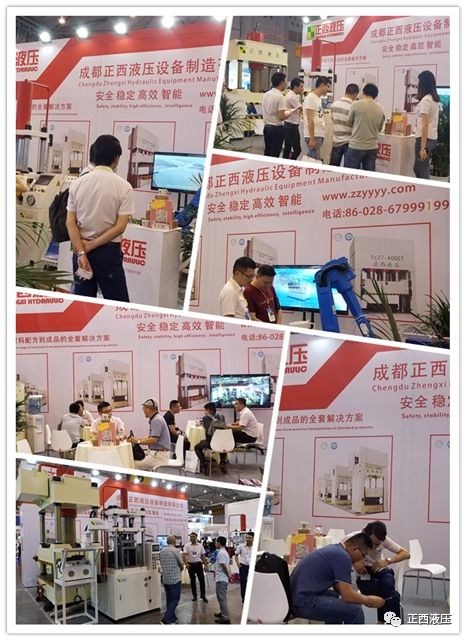 Zhengxi hydraulic staff enthusiastically guided visitors to experience the equipment on site, and many companies from all over the country reached a deep cooperation intention with Zhengxi Hydraulic and proposed to the company to discuss the details of cooperation.
2019 Chengdu Industry Fair is a wonderful review!